17. Litany of Supplication

18. Our Father

19. Otce Nas

20. Only One is Holy

21. Blessed is He

23. Receive the Body of Christ

24. O Son of God Accept Me Today

25. We have seen the True Light

27. Blessed be the Name

28. A New Commandment

29. Do Not Forsake Us

31. Mnohaja Lit

32. Many Years

Prostopinije Ensemble

Sings Plain Chant in St. George's Church - Taylor, PA

Divine Liturgy of St. John Chrysostom Track List

English Lyrics except Slavonic as indicated by Slavonic Titles

1. Ton Despotin

2. Litany of Peace

3. Sunday Antiphons

4. Hymn of Incarnation

6. Entrance Hymn

8. Svjati Boze

9. Alleluia

10. Cherubic Hymn

11. After the Great Entrance

12. The Creed

13. Anaphora

14. Holy, Holy, Holy

16. You are Truly Deserving

St. George's Orthodox Christian Church is a parish of the American Carpatho-Russian Orthodox Diocese of the U.S.A.  Our Prostopinije Ensemble is not a choir.  We are a dedicated group of Orthodox Christians who love the Plain Chant Tradition (Prostopinije) of the Carpatho-Russian people and endeavor to preserve it in all of its simplicity, uniqueness, and beauty. 

There are ten of us who range in age from twelve to "slightly" over forty.  We have been blessed with the arguable ability to hold a tune and feel called to share it through the music of the Church.  Not being professionals, our imperfections may be glaring to the trained ear.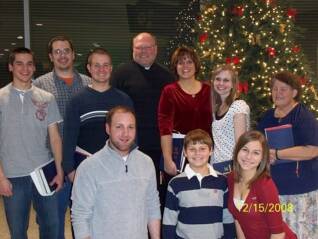 Please accept our humble endeavor in the spirit of praise and prayer in which it is offered.  We extend our sincere thanks to His Eminence, Metropolitan Nicholas, for giving his blessing for this work and to all who have given their encouragement and support.  All proceeds from the sales of our CD's are used for the support of St. George's Church, Apostolates of the American Carpatho-Russian Orthodox Diocese as well as other Orthodox ministries throughout the world.